Laura Wexler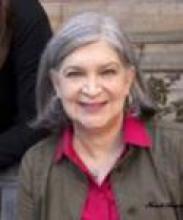 Laura Wexler Professor of American Studies Professor of Women's, Gender & Sexuality Studies, Professor of Film & Media Studies Affiliate Faculty, Ethnicity, Race & Migration Co-Chair, Public Humanities Program Director, The Photographic Memory Workshop at Yale P. I., The Photogrammar Project photogrammar.yale.edu
100 Wall St, New Haven, CT 06511-6607
---
Biography
Laura Wexler is the author of Tender Violence: Domestic Visions in an Age of U. S. Imperialism (University of North Carolina Press, 2000) and Pregnant Pictures (Routledge, 2000), co–authored with photographer Sandra Matthews. Tender Violencewas awarded the  Joan Kelley Memorial Prize of the American Historical Association for the best book in women's history and/or feminist theory. She also co–edited, with Laura Frost, Amy Hungerford and John MacKay, the volume Interpretation and the Holocaust, as a special issue of the Yale Journal of Criticism. Professor Wexler's many other publications on photography and American visual culture include recent studies of the writings of Frederic Douglass, and the photographs of La Toya Ruby Frazier. Her current research interests center on family photographs and national memory.
Professor Wexler has served on the editorial boards of numerous journals including American Quarterly, Genders, and the Yale Journal of Criticism. She founded and directs the Photographic Memory Workshop at Yale.  The courses she teaches at Yale University include: "The History of Photography," "Visuality and Violence," "Photography, History and Memory," "Gender & Sexuality in Media & Popular Culture," and "Digital Humanities."
Laura Wexler completed her undergraduate studies at Sarah Lawrence College and holds M.A., M. Phil., and Ph.D. degrees from Columbia University in English and Comparative Literature. She has taught at Amherst College, Trinity College, Wesleyan University and Yale University. She served as Chair of the Women's, Gender & Sexuality Studies Program from 2003–2007 and Co-chair of the Yale Women's Faculty Forum from 2008-2011.  She is a recipient of major research awards from the Henry Luce Foundation, the National Endowment of the Humanities and the Whitney and Betty MacMillan Center for International and Area Studies at Yale.