Brian Meacham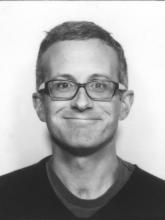 Film Archivist, Yale Film Archive
120 High Street, 708-B, New Haven, CT 06511
---
Biography
Brian Meacham received his Masters of Library and Information Science with a concentration in Archives Management from Simmons College and began work as the Archive Coordinator at the Harvard Film Archive in 2002. He received a Certificate in Film Preservation from the L. Jeffery Selznick School of Film Preservation at George Eastman House in Rochester, New York in 2006.
As the Public Access Coordinator at the Academy Film Archive from 2006 to 2008, he oversaw public, scholarly, and commercial access to the holdings of the Academy Film Archive. He arranged print loans to theaters, archives, and museums around the world, and screened unique holdings on site for researchers and filmmakers. As Short Film Preservationist from 2008 to 2013, he curated a collection of live-action and animated short films spanning more than 100 years of cinema history. He has worked to preserve dozens of short films, from one-of-a-kind silent comedies to independent animated films from the 1970s. He also helped spearhead a collaborative effort between the National Film Preservation Foundation and five film archives in the United States to repatriate and preserve hundreds of American silent films found in the New Zealand Film Archive. Among the unique finds discovered, preserved, and returned to the screen were Upstream, a lost feature film directed by John Ford and The White Shadow, the earliest surviving film to feature a screen credit for Alfred Hitchcock.
Since 2013, Brian has been the Film Archivist at the Yale Film Archive, formerly the Yale Film Study Center, where he oversees acquisition, inspection, cataloging, and preservation of the Archive's collection , which includes print and pre-print elements acquired by the university over the last 50 years. He has overseen the preservation of a number of films in the collection with the help of preservation grants from the National Film Preservation Foundation, and helped launch and program the ongoing 35mm screening series, "Treasures from the Yale Film Archive." He led the Yale Film Archive's application for membership in the International Federation of Film Archives, and represents Associate archives on FIAF's Executive Committee. He also consults on moving image collections across campus, helping with efforts to inspect, catalog, and preserve film in the collections of Manuscripts and Archives and the Yale Music Library.
Recent Publications
"Orphans 2017 / Orphelins de Paris" in Film Quarterly, Vol. 71  No. 1,  Fall 2017; (pp. 80-86): http://fq.ucpress.edu/content/71/1/80
"Between the Archive and the Multiplex: 35mm Film Programming in the Post-film Era" in Journal of Film Preservation, Issue 97, Oct 2017 (pp. 26-34): https://search.proquest.com/docview/1972152677/33A03F93C2624499PQ/6?accountid=15172
Education History
B.A. English, Amherst College, 1997
M.A. Educational Technology, Fairfield University, 2000
MLIS Archives Managment, Simmons College, 2002
Certificate in Film Preservation, George Eastman House, Rochester, 2006