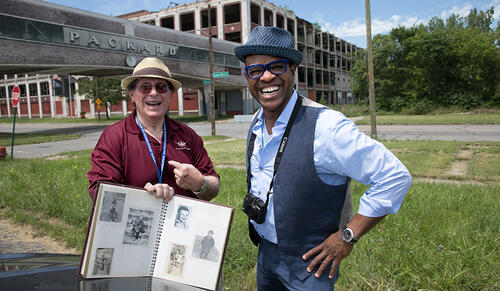 Professor in the Practice, Thomas Allen Harris was recently interviewed on NPR's KPCC on a segment entitled: Where's Your Family Photo Album? A Look Into Preserving Familial History In The 21st Century.
Listen to the interview here: https://www.kpcc.org/show/airtalk/2023-01-10/record-rainfall-in-montecit…
Interview Abstract:
If you spent some time at home with your family over the holidays chances are you might have dusted off a few of the old family photo albums and reminisced about years past, cousins you haven't seen, even grandparents, aunts, or great uncles who are no longer with your family, but created lasting memories nonetheless. Well, as we progress further into the 21st Century the concept of family photo albums is being remixed, from digital scrapbooks to automatic photo albums compiled by your smartphones. How are you keeping the spirit of your family photo albums alive in a more digital era?
Today on AirTalk, we take the time to remember the evolving art of family photo albums. Here to talk about how important family photography is in the modern day is Thomas Allen Harris, Professor in the Practice at Yale's Film & Media Studies and African American Studies Departments.