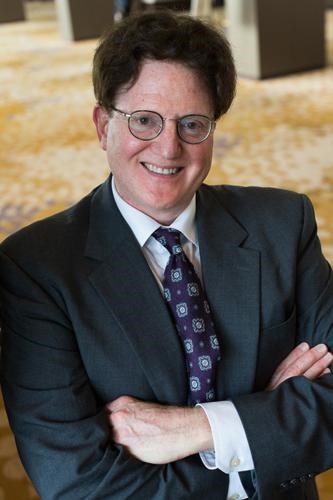 It grieves the faculty and staff of the Yale Film and Media Studies Program to announce the death of our colleague Marc Lapadula on August 9th of this year.  His passing leaves a hole in both our hearts and our program. 
Marc Andrew Lapadula was born in 1960, and received degrees from the University of Pennsylvania, University of East Anglia, and University of Iowa.  He taught at Yale since 1992, starting full-time in 2005, and was appointed Senior Lecturer in 2013.  He was a gifted writer and teacher who led screenwriting programs at Johns Hopkins, the University of Pennsylvania, and here at Yale, among other universities.  His three decades at Yale left a lasting impression on generations of students, many of whom are now working in the industry.  He left behind several plays and film scripts, typically marked by his gift for tight plotting and crisp characterization. 
A hallmark of his teaching was risk-taking.  He wrote: "There are no guarantees in choosing to be an artist. That's what makes it so special and scary as a path in life to pursue. But no great artist or writer can ever play it safe. The life of an artist is one of taking risks. And risks are worth it in that you are creating something out of your own personal experience and unlimited imagination."  He balanced that advice with the care and energy he put into expanding his students' skills and lives.  One of his closest colleagues notes: "The individual attention he gave to each of his students, class after class, year after year, required a superhuman strength.  And he taught his students to respect the arduous process of crafting stories.  Marc Lapadula gave his students an invaluable gift. He taught them to be writers." 
Marc was a convivial presence, whether remote or in person, ever gracious and always brightening the space around him. He could easily make you laugh with his fond or salty observations about life, film, or food.  He was the paragon of responsiveness and would field any question you had for him with great speed.  His definition of success applies beautifully to his own life: "If you are successful, you are doing what you love and sharing it with others." 
Outside of Yale, Marc had a public presence as an electrifying lecturer and commentator on film and American culture.  He had a vigorous lecture schedule and reached wide audiences. 
This is a sad and tragic loss. Marc will be sorely, deeply missed by family, friends and his legion of students. The Film and Media Studies Program sends special condolences to his wife, Jami Lapadula. 
A fuller commemoration of his contributions to Yale is under consideration for later.  Private services will be held at a later time.  Greenlawn Funeral Home East of Springfield, Missouri is attending to the arrangements.