Welcome
The Film and Media Studies Program is the hub for the study of film and other moving image and sound media at Yale. Deeply invested in scholarship, teaching and film programming, our Program both sustains the traditions of and nurtures the most innovative directions in film and media studies research. With our superb faculty and Yale's extraordinary library and archival collections, the Program has taken its place as one of the most exciting venues for film and media study in the world.
Tlaxcala Dreams
Sunday, April 23rd, 5 pm
Whitney Humanities Center Auditorium
53 Wall Street
Tlaxcala Dreams (2017) 48 minutes
A documentary by Sebastian Medina-Tayac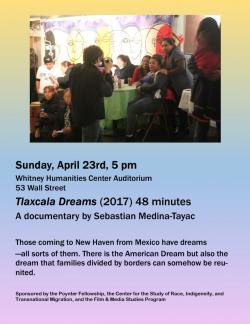 Silent Cinema
April 25,
Silent Cinema Gala
Screening with live musical accompaniment
Memories of the Eichmann Trial (David Perlov, 1979) 65 min.
Wednesday, April 26, 7pm

Introduced by Noa Steimatsky and followed by a discussion with Seyla Benhabib, Hannan Hever, Margaret Olin, and Noa Steimatsky
Moderator: Dudley Andrew