Welcome
The Film and Media Studies Program is the hub for the study of film and other moving image and sound media at Yale. Deeply invested in scholarship, teaching and film programming, our Program both sustains the traditions of and nurtures the most innovative directions in film and media studies research. With our superb faculty and Yale's extraordinary library and archival collections, the Program has taken its place as one of the most exciting venues for film and media study in the world.
Yale Film Colloquium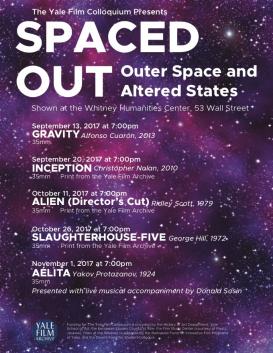 RED CENTURY: THE RUSSIAN REVOLUTION ON FILM
Saturday, September 23
Strike, Director Sergei Eisenstein
RED CENTURY: THE RUSSIAN REVOLUTION ON FILM
(Soviet Union, 1924) 1hr 22min dvd
Introduction by John MacKay, Slavic Languages and Literatures and Film and Media Studies, Yale
With live music accompaniment by Alloy Orchestra
Russian Studies Program, European Studies Council, Film and Media Studies Program, MacMillan Center, Whitney Humanities Center, and the Edward J. and Dorothy Clarke Kempf Memorial Fund
7:00pm, Auditorium
Genealogies of the Excessive Screen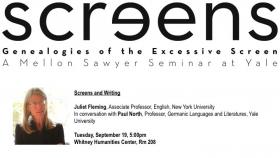 Juliet Fleming is an Associate Professor of English and New York University specializing in Renaissance literature, the history of the book, and literary theory. She is the author of Graffiti and the Writing Arts of Early Modern England (2001) and Cultural Graphology: Writing After Derrida (2016). In her most recent work, Fleming draws from Jacques Derrida's theories of psychoanalysis and deconstruction in order to examine the print culture of early modern England. Along with Bill Sherman and Adam Smyth, she edited a special edition of The Journal of Medieval and Renaissance Studies that explored printed books in the early modern period.
Paul North is Professor of Germanic Languages & Literatures and Director of Undergraduate Studies at Yale University. He is finishing a book on likeness, called On Homeology: Science for a World without Things. His last book, The Yield: Kafka's Atheological Reformation came out in 2015 from Stanford University Press. In Fall 2017, he will teach the Shulman Seminar for the Whitney Humanities Center, an undergraduate seminar, "Reports from Non-Human Worlds," with guest lecturers. In Spring 2018, he will co-teach a course on Critical Theory in Latin America with the Chilean theorist Willy Thayer, as part of a Mellon grant for Critical Theory in the Global South.