Welcome
The Film and Media Studies Program is the hub for the study of film and other moving image and sound media at Yale. Deeply invested in scholarship, teaching and film programming, our Program both sustains the traditions of and nurtures the most innovative directions in film and media studies research. With our superb faculty and Yale's extraordinary library and archival collections, the Program has taken its place as one of the most exciting venues for film and media study in the world.
Monday, October 23, screening of Wendy Whelan: Restless Creature
A film and discussion about ballerina Wendy Whelan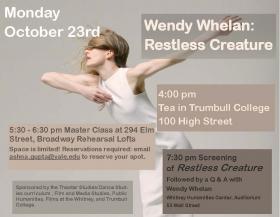 Genealogies of the Excessive Screen: Rey Chow
Rey Chow is Anne Firor Scott Professor of Literature at Duke University. She has specialized in the making of cultural forms such as literature and film, and in the discursive encounters among modernity, sexuality, postcoloniality, and ethnicity. Her book Primitive Passions was awarded the James Russell Lowell Prize by the MLA. Before coming to Duke, she was Andrew W. Mellon Professor of the Humanities at Brown University. In her current work, Chow is concerned with the legacies of poststructuralist theory the politics of language as a postcolonial phenomenon, and the shifting paradigms for knowledge and lived experience in the age of visual technologies and digital media.
Brian Kane is an Associate Professor of Music at Yale. His scholarly work is interdisciplinary, located in the intersection of music theory, composition and philosophy.  Working primarily with 20th century music, Kane's emphasis is on questions of sound and signification. Central themes in his research are: music and sound art, histories and theories of listening, phenomenology, improvisation, music and subjectivity, technology, conceptualizations of sound and music in literature and philosophy, and theories of the voice.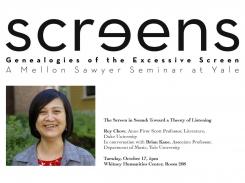 Thursday, November 2 screening