Welcome
The Film and Media Studies Program is the hub for the study of film and other moving image and sound media at Yale. Deeply invested in scholarship, teaching and film programming, our Program both sustains the traditions of and nurtures the most innovative directions in film and media studies research. With our superb faculty and Yale's extraordinary library and archival collections, the Program has taken its place as one of the most exciting venues for film and media study in the world.
Yale Film Colloquium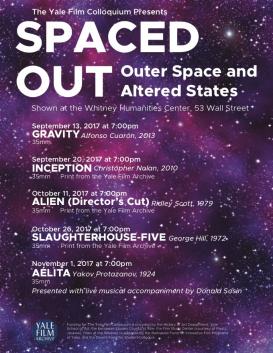 RED CENTURY: THE RUSSIAN REVOLUTION ON FILM
October - RED CENTURY: THE RUSSIAN REVOLUTION ON FILM SCREENING
Wednesday, October 4, 2017 -

7:00pm

to

9:30pm
OCTOBER (directed by Sergei Eisenstein and Grigori Aleksandrov,1928)
The most famous and the most controversial of all film commemorations of the 1917 revolution, OCTOBER was both the first film to land Eisenstein in trouble with the Soviet authorities, and arguably the work in which his provocative ideas about "intellectual montage" were most fully realized. A work of unique historical importance, OCTOBER is one of the most formally elaborate, conceptually rich, and emotionally charged films of the entire silent era. PRESENTED WITH LIVE MUSIC BY SILENT FILM PIANIST PETER KRASINSKI!
OJ: Made in America
Mon. 9/25 & Tues. 9/26:  Screening Part 1 and Part 2, at LC 101
Wed. 9/27:  Screening Part 3 at WHC Auditorium           
Following Part 3:  Q&A with Director Ezra Edelman
Free admission – open to the public.