Rizvana Bradley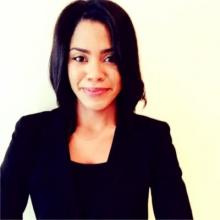 Assistant Professor of Film Studies and African American Studies
---
Education
PhD in Literature, Duke University 2013
Biography
Rizvana Bradley received her PhD in Literature from Duke University in 2013, and her B.A. (Highest Honors) from Williams College, where she studied English and Political Theory.  She was a Helena Rubinstein Critical Studies Fellow at the Whitney Museum of American Art Independent Study Program in New York from 2012-2013.  Before coming to Yale, Bradley was as an Assistant Professor at Emory University, and a Visiting Research Fellow in the Department of the History of Art at the University College London. Born in Kenya, and raised in the U.K., Germany, Poland, Tanzania, and the U.S., Bradley's research and teaching focus on the study of film and media at the intersections of contemporary art and performance (with a particular interest in the development of the moving image in relation to cinema).  Her scholarly approach to artistic practices in the fields of African-American cultural production, as well as the wider black diaspora expands and develops frameworks for thinking across these contexts, specifically in relation to global and transnational artistic and cinematic practices.  
Bradley is currently at work on two new scholarly book projects. The first is a recipient of a Creative Capital | Andy Warhol Foundation Arts Writers Grant, and offers a critical examination of the black body across a range of experimental artistic practices that integrate film and other media.  The second project examines the relationships between newer forms of experimental film and video practices, and traditional film genres. Recent and forthcoming articles and essays have focused on Black British video artists and The Art of the Moving Image in Britain After 1989 (forthcoming, Yale University Press, 2018); the cinematic development of black dance forms in relation to the critical interrogation of the loss of gesture in the history of cinema (forthcoming, TDR: The Drama Review, MIT Press, 2017); British artist and director, Steve McQueen (Black Camera: An International Film Journal, Indiana University Press, 2015); the televised 1991 Anita Hill hearings and centrality of black femininity in reimagining the stakes of black embodiment (Rhizomes: Cultural Studies in Emerging Knowledge: Special Issue: Black Holes: Afro-Pessimism, Blackness and the Discourses of Modernity, 2016); the relevance of film theorist Laura Marks' notion of 'hapticality' or 'haptic visuality' for art and performance (Women and Performance: The Haptic, Routledge, 2015); Brazilian documentary filmmaker, Maria Beatriz Nascimento and the philosopher Édouard Glissant (Discourse: Journal for Theoretical Studies in Media and Culture, Wayne State University Press, 2014).  Bradley's writing has also been featured in Parkett, e-flux, and Art in America.
Bradley's interests in film and experimental video developed out of her research in Black Studies, anticolonial politics, continental philosophy, and aesthetic theory. These first came together at Williams College, where Bradley wrote an honors thesis that theorized the relationship between aesthetics and politics with respect to Documenta 11, an international art exhibition organized across five global platforms, curated by Okwui Enwezor in 2002. Writing on the concept of "Democracy Unrealized," she became interested in Documenta's video and film program, consisting of 35 films by 26 directors.
Bradley's research and teaching draw upon critical topics in Film Theory, Feminist Film Theory, New Media Studies, together with key developments in contemporary art, bringing these to bear on narrative cinema and Afrodiasporic cultural practices spanning the fields of art, film, and performance in a global context.  In London, Bradley curated two international symposia related to the study of Afrodiasporic thought and aesthetics, dedicated to exploring these overlaps in cultural practice: (BFI) British Film Institute, Blackness, Cinema, and the Moving Image (2016); The Serpentine Galleries, Wayward Aesthetics (2017).