Marc Lapadula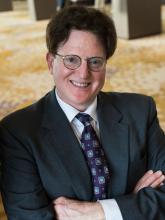 Senior Lecturer in Film Studies
320 York Street, Room 126, New Haven, CT 06511
Biography
Marc Lapadula has been teaching introductory, intermediate and advanced seminars on screenwriting at Yale University since 1992 where he is a senior lecturer. He has had several original screenplays commissioned or optioned, including Distant Influence, Night Bloom and Loner as well as screen adaptations of Mikhail Bulgakov's Heart of a Dog and Miguel de Unamuno's Saint Emmanuel the Good, Martyr.
He produced Angel Passing starring Hume Cronyn and Teresa Wright. This film premiered at The Sundance Film Festival and won, among other awards, the grand prize at WorldFest Houston. Other movies he produced include Mentor, starring Rutger Hauer, which premiered at The Tribeca Film Festival.
Marc has been a script consultant for film producers and studios, including New Line Films. He previously taught screenwriting at Columbia University's Graduate Film School as well as playwriting and film analysis courses at Johns Hopkins and The University of Pennsylvania where he created, coordinated and taught both universities' screenwriting programs. 
Research Interests
American and British Cinema; playwriting; 20th century Irish and English drama on the graduate level at Oxford University (Exeter College), England.
Education History
M.F.A., in playwriting, University of Iowa Writers' Workshop.
M.A., Malcolm Bradbury's Creative Writing Workshop at the University of East Anglia, Norwich, England
BA, University of Pennsylvania